Room Options: accommodation types
Here are some of our rooms types, to see more about a specific room, just click on the accommodation type and follow the link.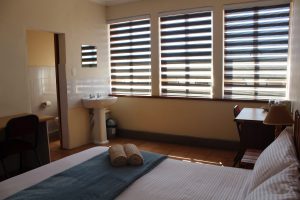 Bed: 1 King size bed / 2 single beds
Occupancy: 2 adults
Bathroom: Bath/shower
See more photo's and a video of the room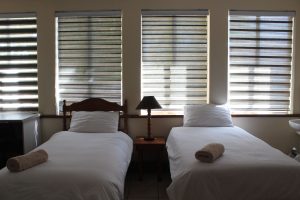 Beds: 2 single beds
Occupancy: 2 adults
Bathroom: Shower
See more photo's and a video of the room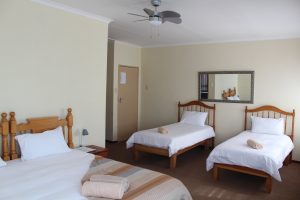 Bed : 1 King size bed & 2 single beds
Occupancy : 4 adults
Bathroom : Shower and or bath
See more photo's and a video of the room
Accommodation Testimonials
We want you to always come back and use our clean and affordable accommodation in Potchefstroom. Acorn Lodge has left an impression with the previous guest and here are what they have to say about their visit. See more reviews on Google here
The moment I walked in the door of this welcoming environment, I felt home. Rooms are clean and neat. Friendly staff. I would highly recommend Acorn Lodge.
It is really easy to find Acorn Lodge. We are well located and very visible from the street. Below you can find and all our details
Acorn Lodge: Cheap Potchefstroom Accommodation Rates
We offer the best value for money based on the quality of our bedding, linen, our large room sizes,  and our easy access & location. If you are looking for affordable accommodation in Potchefstroom and value for money, Acorn Lodge is the place for you. 
Standard Double  Bedroom:  From ***R510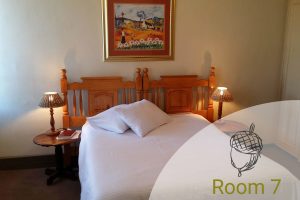 Description: Room size 21 m²  with 1 double bed.  In your bathroom, you will get, an  En-suite bathroom with Bathtub and wash-up, Free toiletries and Towels. Our rooms have the following facilities: Tea/Coffee Maker a TV, Roof Fan, Wardrobe or closet. See our Standard double room here
All Rooms have Free private parking and Free Wifi.
***Please note that our prices start at these rates and that we can change our prices at any time.
We do a mouthwatering breakfast at Acorn Lodge. Our breakfast is available from 7 am to 8:30 am, Monday to Friday. We can do breakfast over the weekends but you need to book in advance for weekends. The breakfast menu is available at the lodge and starts from R70 and coffee included. We can also do meals, but you have to book or contact our kitchen staff in advance.
More about Acorn Lodge situated in Potchefstroom
Potchefstroom is well known for the North West University, also known as the NWU or Pukke. Acorn Lodge is situated in Potchefstroom and close to the North West University. The Venue and guest rooms are set up to accommodate a wide range of guests. We can customize your needs and arrange any type of accommodation packages, for individual accommodation or large group accommodation needs. When visiting Potchefstroom, whether you are doing a business trip, have education or university visit, or just a holiday we will be able to help you. There are lots of things to do in Potchefstroom and we recommend the following:
Potchefstroom Mall – We are close to and conveniently located to the Mooi River Mall. The Mall host lots of great restaurants like Mugg and Bean, Spurr and  Jhon Dory. There are also great entertainment opportunities like a Ster-Kinecor and a Goldrush.
We feature on all the best accommodation  websites:

Tel: +27 (0) 18 297 1569
Call: +27 (0) 73 652 1264
Email:
[email protected]
Address:
17 Walter Sisulu Avenue (C/O Maree Street & Walter Sisulu Avenue)
Potchefstroom
2520